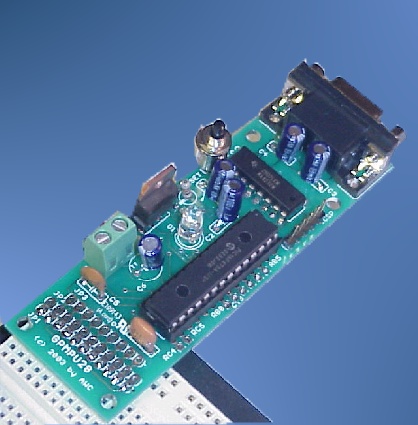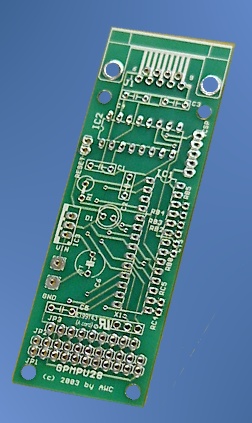 Shown with some optional or user-supplied components
It is great to test and debug PIC circuits on a breadboard. But when it is time to put your design in the field, you can't depend on a solderless breadboard. With the GPMPU28 board, you don't have to choose one way or the other. The GPMPU28 plugs directly into a standard solderless breadboard and provides 9 I/O pins right to the breadboard. It also accommodates a MAX232 serial port, a 5V power supply, an onboard LED, and an ICSP header for in circuit programming and debugging.
The unique header arrangement used by the GPMPU28 allows you to reroute any signal you need to the breadboard header easily. If you want the default connections, you don't need to make any modifications. Of course, you can also use the header to connect to any real-world device you like after your design is off the breadboard. Four mounting holes allow the GPMPU to install permanently, if desired.

The high-quality double sided board has plated through holes, solder mask, and silk screen markings to make assembly simple. The included instructions show the schematic, parts list, and it also discusses many possible customizations you may wish to make.

Key Links
The board accepts 28 pin Microchip devices including the PIC16F873, PIC16F876, and the PIC18F252. You can read the manual online . Or have a look at an example project .
If you are breadboarding or you just want a robust platform for your PIC projects, you want the GPMPU28!
If you are looking for a 40-pin solution for PIC, AVR, or virtually any other 40, 32, 28, 24, 18, 16, or 8 pin CPU have a look at our GPMPU40 .
The GPMPU28 is available today. You can get the entire kit, or just the parts you want or need, including just the bare board.
Add to Cart Full kit. Includes PC board, components for serial port and power supply, PIC16F886/20 with resonator, and instructions. $29.95 each EVERYTHING YOU NEED
Add to Cart Full kit without PIC. Includes PC board, components for serial port and power supply, and instructions. $23.50 each EVERYTHING YOU NEED EXCEPT THE PIC
Add to Cart Kit without power supply. Includes PC board, components for serial port, PIC16F886/20 with resonator, and instructions. $24.95 each
Add to Cart Kit without power supply or PIC. Includes PC board, components for serial port, and instructions. $19.95 each
Add to Cart Board and PIC only. Includes PC board, PIC16F886/20 with resonator, and instructions. $19.95 each
Add to Cart Bare board. Includes PC board, and instructions. $12.95 each
Add to Cart Serial cable (DB9 female to male, 6') $8.99