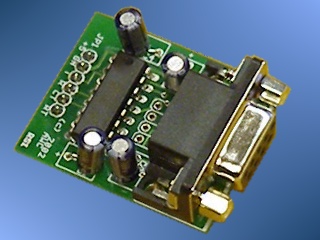 If you work with microcontrollers, you know how useful a MAX232 chip can be. Now with our RS-I serial adapter, connecting RS-232 to your breadboard is plug and play.
You simply plug the 6 pins of the RS-I directly into your breadboard. Pin 1 and 2 require +5V (regulated) and ground. The other four pins give you access to the serial port transmit, receive, RTS, and CTS lines. The female DB-9 will connect directly to a PC with a straight cable. Perfect for connecting a second serial port to a Basic Stamp, PIC projects, or anywhere you need RS-232 connections. Works with many PIC bootloaders including our new APP-II. Here's a Web page where an RS-I is used to control a digital camera.
Although the RS-I only requires 5V (or 3V to 5.5V for the RS-II), special circuitry in the IC generate positive and negative voltages required for true RS-232 interfacing. Operates up to 120kBaud.
New improved PC board makes it easier to rewire the kit as DTE instead of DCE (that is, cross pins TX/RX and RTS/CTS).
New RS-II for 3.3V systems (operates from 3V to 5.5V).
If you have a well-stocked junk box, order the board and manual only. If you want all the parts you need, order the complete kit.
Please note that this is a kit and does require soldering and basic electronic tools. This allows you to customize the board to fit your needs. All the parts are through hole, and the solder masked board is very easy to assemble.
Get it Now!
Add to Cart RS-I complete kit $17.95 each
Add to Cart RS-II (3V to 5.5V operation) complete kit $19.95 each
Add to Cart RS-I assembled and tested $25.50 each
Add to Cart RS-II assembled and tested $27.50 each
Add to Cart RS-I/II board and manual only $9.95 each
Add to Cart Serial cable (DB9 female to male, 6') $8.99